Sakai Takayuki is known for being one of the biggest manufacturers of Japanese knives in the world as well as the top knife maker in Sakai. The company is from Sakai, the samurai city in Osaka which is also the birthplace of Japanese sword making and handcrafted Japanese cutlery since the 14th century.
Similar to Japanese swords, Sakai knives are made from high carbon steel and forged using many of the same techniques. Highly skilled craftsmen apply special techniques during the manufacturing process of these knives which are known for its quality, toughness, sharpness, edge-life, design, and functionality.
Let's check some of the best Sakai Takayuki knives below.
Sakai Takayuki Knives by Aoki Hamono has been cultivated through a long 600-year history in Sakai which is a city known best as a home of cutlery for the professionals in Japan.
The feature of Sakai Takayuki is in the sharp-durable edge made by careful forging and polishing by Japanese timeless-traditional technology by skilled swordsmiths.
Sorce : hocho-knife.com
Sakai Takayuki 33-Layer VG10 Damascus Indigo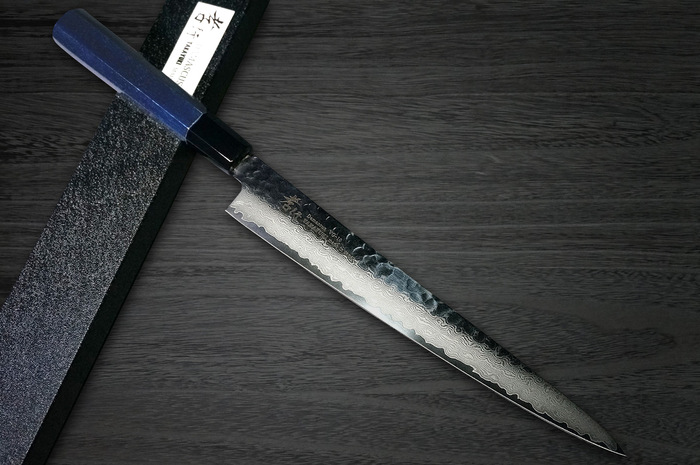 These knives are double-beveled. This beautiful "JAPAN BLUE" version is crafted out of 33 layers of Damascus steel, folded and wrapped around a VG-10 core with a beautiful, traditional Japanese indigo-dyed (Ai-zome) blue handle. VG-10 is a stainless steel which produced in Fukui, Japan by Takefu Special Steel Corporation. Knives made with VG-10 combine the hardness of carbon steel with the corrosion resistance of stainless steel and have excellent edge retention, making them excellent kitchen knives.
The layered Damascus steel around the VG-10 core makes the blade easier to sharpen and additionally provides shock absorbing elements. Each blade is hand sharpened, and the exposed edges of these blades are the sharpest that can be manufactured. The Ai-zome blue colored handles on these knives are carefully dyed by skilled craftsmen who use traditional Japanese methods on half-rounded octagonal Hou wood. The yield loss in the process to dye the wood is currently very high, which results in the blue saya being more expensive. The name "Japan Blue" was dubbed around 100 years ago in the Meiji era by Westerns who were visiting Japan.
Today, the blue color is also reflected on the uniform of the Japanese national football team, and the color also represents the image of Japan. These knives come in a wide range of models such as Gyuto (chef knife), Santoku (vegetable, meat, and fish knife), Petty (utility knife), and Nakiri.
Sakai Takayuki 33-Layer VG10 Damascus Indigo – Hocho Knife
Sakai Takayuki GINGA ZA-18 69-Layer Damascus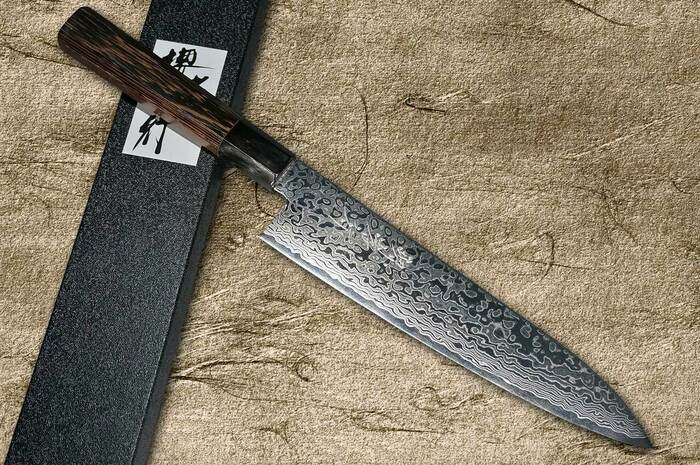 These knives are double-beveled. The GINGA knives come with a beautiful mirror-finish, and are crafted out of 69-layer Damascus Stainless Steel with a ZA-18 Alloy Core developed by the Aichi Steel Co. Produced in Sakai, a city famous for its highly skilled blacksmiths, ZA-18 is a new high-performance Japanese cobalt steel.
These knives are handcrafted and extremely tough which translates to longer edge retention. ZA-18 steel contains a high rate of chromium which gives it high corrosion-resistance properties. The handles have a smooth finish and are made of a beautiful octagonal shaped, Japanese Magnolia wood, giving it an elegant look and making them very well balanced. These knives also come in a wide range of models for different purposes.
Sakai Takayuki GINGA ZA-18 69-Layer Damascus – Hocho Knife
Sakai Takayuki ZANGETSU Honyaki Ginsan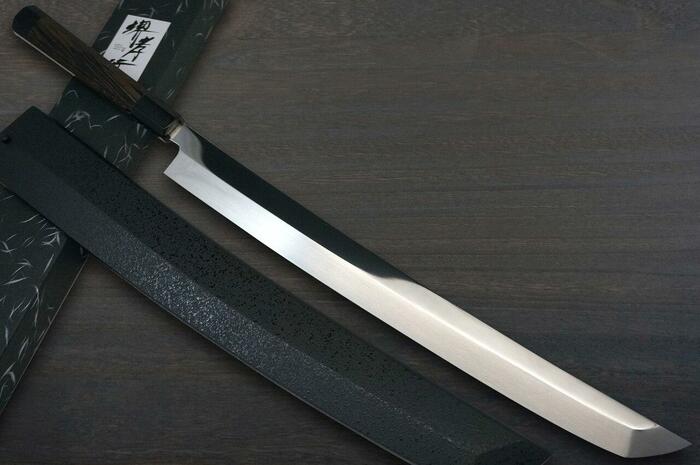 These knives are single-beveled. ZANGETSU knives are arch-shaped chef knives and are forged and sharpened by skilled craftsmen in Sakai. The Ginsan No.3 Steel knives are made from Hitachi Metal's special stainless steel, which offers similar sharpness and edge retention as carbon steel. Hitachi steel is also known for being extremely rust-resistance.
Ginsan blades feature a stylish arched shape, similar to elements of traditional Japans swords. The handles are made of a special Wenge wood and features a Japanese-style octagonal shape for a better fit in your hand. This knife comes with a wide range of Sakimaru-Takohiki (Sashimi) models in many sizes.
Sakai Takayuki ZANGETSU Honyaki Ginsan – Hocho Knife
Summary
These are another three types great knives manufactured by Sakai Takayuki. They're a great gift for friends and loved ones and are perfect for anyone looking to enhance and make their cooking more enjoyable.