Sakai Takayuki is known for being the top knife maker in Sakai, a city in Japan, and is one of the biggest manufacturers of Japanese knives around the world. The company is located in the samurai city of Sakai, which happens to be the birthplace of Japanese sword making and handcrafted Japanese cutlery since the 14th century. Renowned for its premium quality and unique Japanese knives for sushi and sashimi making processes, Sakai Takayuki is indeed one of the most trusted Japanese knife brands.
Sakai knives are made from High Carbon steel and are forged using many of the same techniques used to make Japanese swords. Japanese knives are generally known for its high quality, excellent edge-life, exceptional durability, and functionality. All knives are forged by highly skilled craftsmen who apply special and traditional techniques during the manufacturing process.
Let's check out some of the best Sakai Takayuki knives below.
Sakai Takayuki Honyaki VG10 Stainless Dragon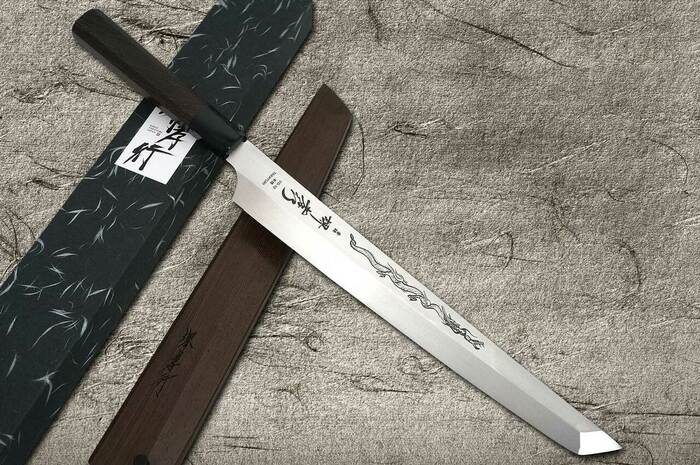 Made for professional chefs, Sakai Takayuki's Honyaki knives are 100% made from a single piece VG10 stainless steel, which gives it excellent rust resistance and provides a long-lasting edge. Due to how hard the steel is, the edges become extremely sharp after the forging process and retains its sharpness for such a long period of time. As the Honyaki is so hard to make, the knives can't be mass-produced, which is one of the reasons why Honyaki knives are some of the highest quality traditional Japanese knives said to be the closest to the swords of ancient Japan.
The handles on these knives are made from half-rounded octagonal Wenge wood with Buffalo Horn Ferrule, which are rare and high quality materials. To ensure maximum sharpness out of the box, each knife is hand sharpened. Honyaki knife series also come engraved with a beautiful illustration of a powerful dragon, representing power, elegance, and independence.
Sakai Takayuki Honyaki VG10 Stainless Dragon Selections
Sakai Takayuki Non-Stick Coating VG10 Hammered WA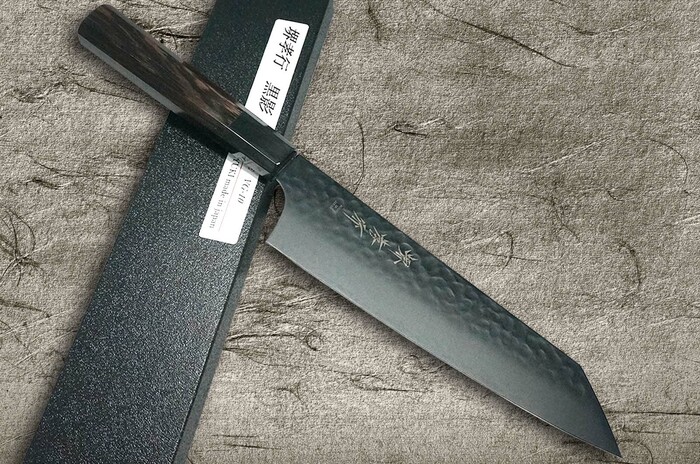 Another great knife by Sakai Takayuki to consider is their non-stick coating VG10 Kurokage knives – coated with fluoride resin to ensure extreme surface smoothness.
Compared to the more well-known MAC non-stick knives, Kurokage knives are much more advanced. The blades are hammered, and the concavo-convex texture prevents food from sticking to the blade, further showcasing users its useful non-stick function.
The core blade is made out of the VG10 stainless steel with a hardness rating of 60-61 HRC, giving these blades much better edge retention than typical chrome molybdenum stainless steel or MAC knives in general. The handles on these knives are made out of the Japanese octagonal Wenge wood with a Buffalo Horn ferrule. These knives are forged mostly for professional use and are hand sharpened to ensure maximum hardness out of the box. These knives also come in a wide range of models such as Gyuto (chef knife), Santoku (vegetable) and Petty (utility knife).
Sakai Takayuki Non-Stick Coating VG10 Hammered WA Selections
Sakai Takayuki Shiden Ginsan (Gingami No.3 Steel, Sashimi Knife)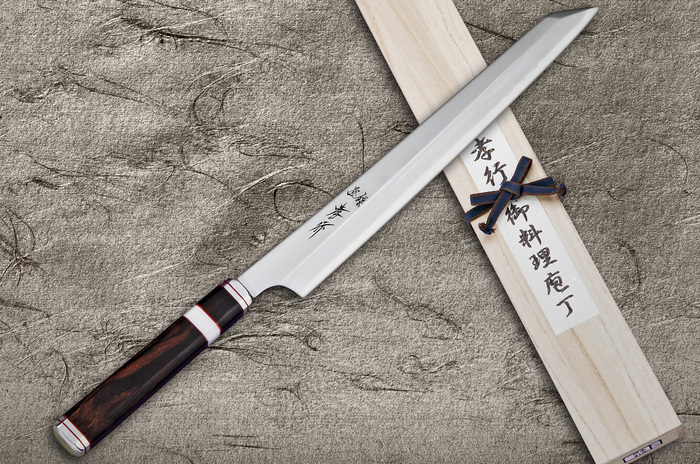 Sakai Takayuki's Shiden Ginsan knives are produced in limited quantities and are crafted out of stainless blades with a core of Silver paper No. 3 steel. The properties of these blades are similar to blades made with carbon steel as they're made by a Japanese steel company, Hitachi's Special Stainless Steel, which gives the knives an extremely sharp edge and provides it with excellent edge retention.
The handle of this knife is made out of the Japanese-style octagonal, handcrafted Desert Ironwood, the densest wood on Earth, along with a stainless bolster which is water resistant and beautifully buffed. These knives are very well-balanced, making them a pleasure to grip. The cultured marble ring equipped on the handles symbolizes that the knife is of high-quality, is extremely durable, and made for professional use.
Sakai Takayuki Shiden Ginsan (Gingami No.3 Steel) Selections
These are the three types of great knives manufactured by Sakai Takayuki. They are indeed, excellent gifts for friends and loved ones, and are perfect for anyone who would love to enhance their knife skills and make their cooking routines more enjoyable.